PRODUCT INFORMATION
ADDITIONAL
CUSTOM TAB
CUSTOMER REVIEWS
PRODUCT INFORMATION
Knitted Cardigan Bubble Sleeved for Women
A beautiful Knitted Cardigan Bubble Sleeved  that is perfect for winter to Keep you warm and cozy.
Do you want to stay warm during the cold winter months? With this Women's Bubble Sleeve Knitted Cardigan, you won't have to worry about it. Keep your arms warm and snuggly with the long sleeves, while still keeping them free to move around. The open front creates a stylish look that you will love! Made in Italy, the luxurious fabric will keep you feeling soft and comfortable all day long.
The soft and comfortable fabric will surely suit any person's needs — especially those who can't afford to spend much on clothing. The knitted design and long sleeves allow for this cardigan to be made to high-quality standards, despite its affordable price.
 This Bubble Sleeve Knitted Cardigan can be worn at work or on any occasion, keeping you warm all day with the perfect matching outfit. Get one before they're gone!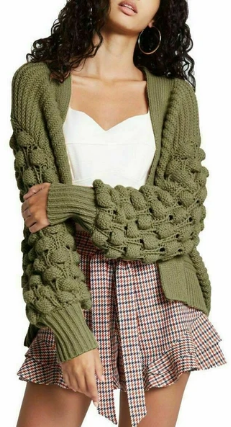 Knitted Cardigan Bubble Sleeved for Women
The Knitted Cardigan Bubble Sleeved top is a great choice for women who are looking for a sweater with the best quality. The open front of this top has a bubble sleeve on it. The Knitted Sweater has a soft feel and it is comfortable to wear.
Summary:
This cardigan is perfect for the winter months. It will keep you warm and cozy.
This is a nice looking and warm sweater. It is made of a soft and comfortable fabric, which makes it very suitable for those who want to stay warm and cozy.
This cardigan is comfortable and stylish, making it ideal for everyday wear.