Men's Shorts Guide
Posted by ATIF NADEEM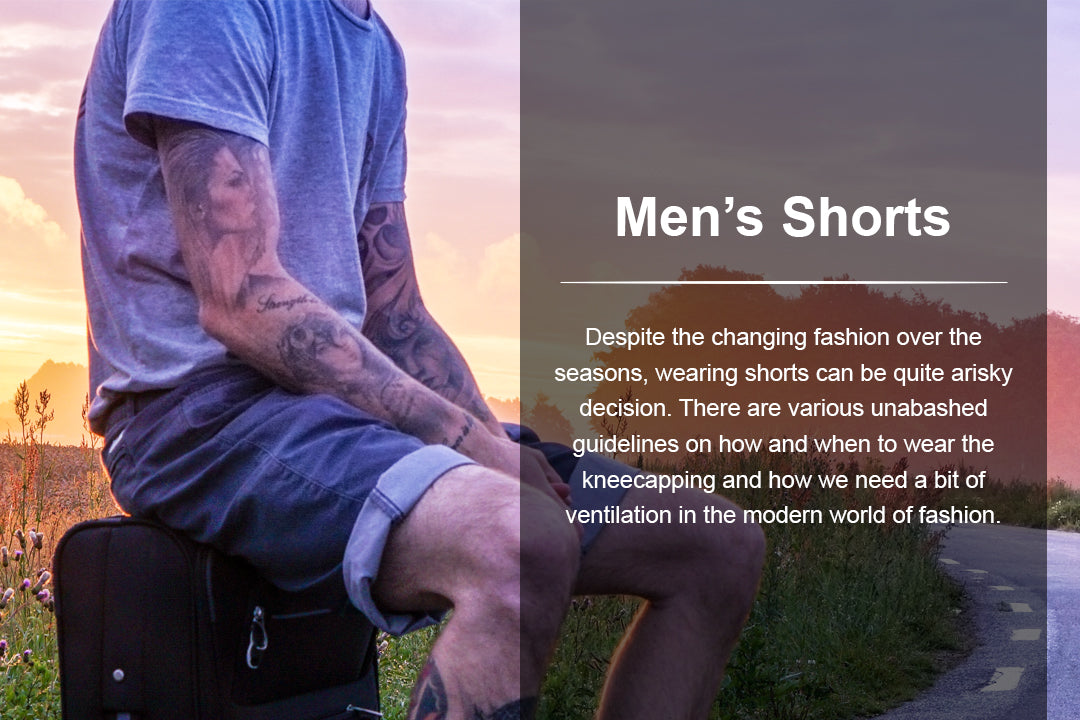 Despite the changing fashion over the seasons, wearing shorts can be quite a risky decision. There are various unabashed guidelines on how and when to wear the kneecapping and how we need a bit of ventilation in the modern world of fashion. There is an urge to flash a leg before the summer begins.
 What's the ideal length?
 Shorts have gotten shorter over the last ten years. Stylists believe the length of the shorts that descends to the lower thighs is ideal because it embraces most to any body type and prevents knees from being cut off. This excellent, low-thigh spot is necessary even if you try to hide it instead of showing up.
 Men who have wide thighs should also go for subtle tapering to their knees, although the shorts' edges shouldn't stretch over the hip-width. In the winter months, you can easily style a pair of slim, dark jeans. However, as the summer arrives, the bottoms start creating faux fashion pass over your knees. These are the shorts to wear and style for any event.
 We will be discussing the different types of shorts below that you may wear to give killer looks.
Tailored Shorts:
 You may try to match a pair of tailored shorts with a perfectly ironed shirt, skillfully polished shoes, and lightweight blazer in linen or cotton, which will fit on a date or dining at a top-quality restaurant as well. Try to choose minimal styles in muted colors, and it is also good not to wear such tailored shorts that have something like zipper pockets or, in short, hints a sporty look.
Swim Shorts:
 There is plenty of shorts for men for the beach and pool styles. The best suggestion is wearing tailoring patterns in block colors and fast-drying fabrics. Retro cropped swimmer shorts that are extra short have been in trend for many years, but you should wear it if you have toned legs. Also, keep in mind that you wear simple and a plain top, or a polo shirt with these shorts and always ensure they are dry.
Denim Shorts:
 If you spend most of your time out hanging out with friends and spill food now and then, then you need something sturdy that is not overly sensitive. It would be best if you had something that can handle a couple of washes without getting spoiled. In these circumstances, the best option for shorts lovers is to get themselves denim shorts.
 While they are not as breathable as cotton and linen, denim shorts can be worn at any time of the day and are very durable. Opting for a dark color will help as it will hide most of the stains and go really well with a nice shirt. Denim shorts may look untidy or give you a disheveled appearance if they are not styled correctly. Also, make sure never ever to wear denim with flipflops as it is a fashion disaster.
Chino Shorts:
 Chino shorts and tailored shorts are confused with being the same. However, we won't be jumping into the details; just keep in mind that they both have the same kind of streamlined cut.
 It is suggested that those who are worried about baring their legs should choose dark colors. They may transition to softer and lighter colors once they are comfortable with wearing them.
 You may wear them with a T-shirt and retro sneakers to pull out a casual style. You may also go to casual events wearing these shorts as you can pair them up with a Cuban collar shirt. You should also wear them at least three inches above the knees and never fill your pockets with heavy stuff as it will only add bulk to your look.
Sports Shorts:
 You may be wearing your old gym shorts inside and inside the gym. Sports Shorts are trending in fashion and are now acceptable outside the gym as well. You may get yourself a subtle pair of sweat shorts in manly colors like navy blue, grey, or even go for the most-favored black color. You may pair them up with cool sports shoes and a crew neck T-shirt.
Final Words:
 Shorts are quite revealing pieces of cloth, and everyone is not confident enough to wear them. If you are confident about your body and think that they really suit you, you should opt for them; otherwise, it is a good idea to avoid them.
 You do not need super athletic, toned, and muscled legs to wear them; however, building a toned physique will give you more confidence to reveal your body and expand your fashion choices.
 If you are a shorts lover, but you feel that your legs are not toned enough to pull them off, then you can definitely start working out. You may train two or three times a week and will notice excellent progress. You should also closely focus on leg exercises and practice the best exercises according to your routine and capacity.
 In the end, shorts are still very much in fashion and are also a fashion symbol for pride and confidence. As discussed above, not everyone is confident enough to show their bodies. Also, the multiple types of shorts make them versatile enough to suit dressing for any and every environment. You may wear them with T-Shirts, Collar shirts, Sandos, etc., and give yourself a casual or formal look according to the event you are attending.
Many websites on the internet offer a variety of shorts. One of such online web store is Style Lockers. For high-quality men's shorts, you may visit their website at https://www.stylelockers.co.uk/, and you may also check out their collection of other clothing.
Collection 2019
Sale 70% Off
Third slide