Men's Trouser Guide
Posted by ATIF NADEEM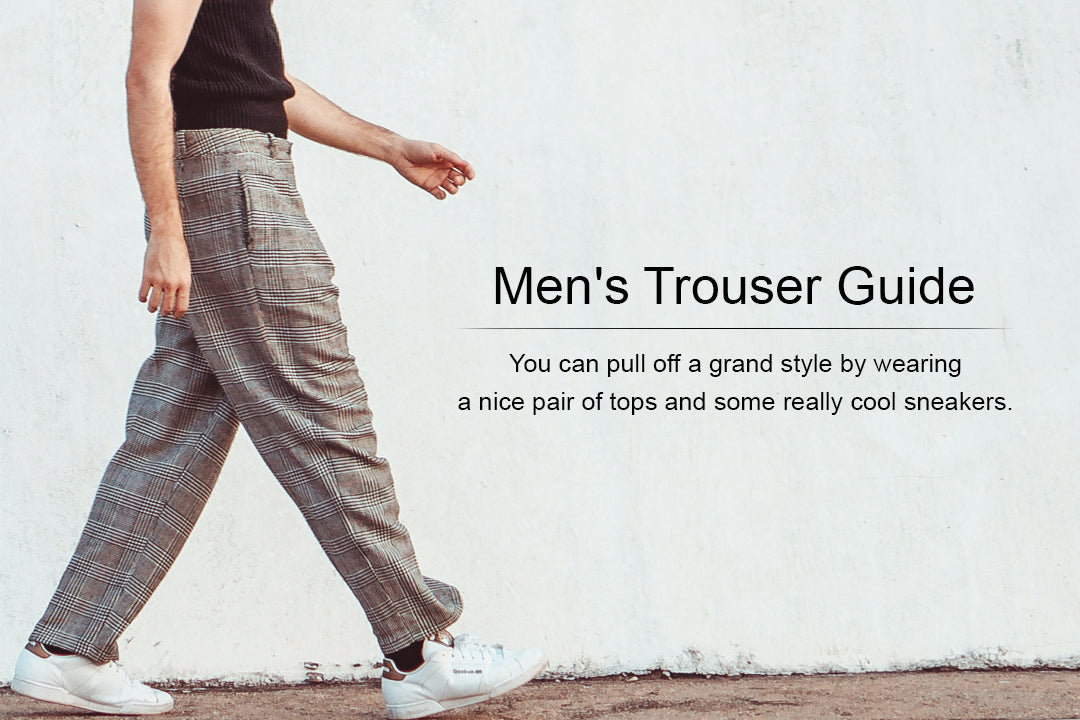 You can pull off a grand style by wearing a nice pair of tops and some really cool sneakers. This does not mean that you can underestimate the power of trousers, as they, too, are a compelling dressing element.
If you select the right pair of trousers for yourself, they may be the most potent fashion choice you may, while on the other hand, if you make the wrong choice, it could be a massive fashion disaster.
Of course, it is always convenient to pick up a slim-fit blue or black jeans and pull a look. But, you can't miss out on all the other fashion choices for wearing a bottom like an excellent trouser style that you may have never tried before. We will be discussing the distinct trouser styles in this article that can up your fashion games.
Wool Trousers:
These trousers were trendy back in the day when jeans were not mainstream wear. People wear it as a nostalgic fashion element, and they continue to be the favorite bottom wear of fashion bloggers on the internet and are loved by all the art directors as well.

Wool pants have been the cornerstone for many years amongst business insiders. They have been an ideal choice for styling with other personalized items or for a decent casual look as their appeal shows no signs of loss even today.
You may see models wearing them with some really cool and trendy sneakers, you may also wear them to pull off a traditional look.
Relaxed-Legged Trousers:
Don't you hate it when your legs can't breathe in a skintight bottom? Are you one of those people who can't stand skinny jeans? If yes, then these trousers are here for your rescue. These breathable, relaxed legged trousers give a break to your legs and let them be comfortable and free.
The mid-20th-century garments inspire their style. You may wear these trousers to complement your footwear perfectly. As far as the styling is concerned, you can contrast these gorgeous pieces with a superior fit shirt to pull off a modern look and avoid looking like someone from the 60s or 70s.


While opting to select the perfect relaxed legged trousers, make sure to get the right size as if they are too long, they will cover up your footwear, and if they are too short, then they will look too high and ruin your overall look.
Corduroy Trousers:
This unique style of trousers is arguably one of the most underrated trousers types and can totally transform your style if worn correctly. If you are going for a 70's inspired style, then choosing these trousers might be the smartest fashion choice you would make.
The textile cord is made up of woven, twisted cotton or wool and results in parallel lines.  Wool corduroy is the most enduring type and is very well worn. The trousers made up of cord can withstand rough usage as well. However, they may get a little warm, so it is suggested to wear them in the winter.
Corduroy is fantastic when suited and worn for everyday use. You may pair these corduroy trousers with leather sneakers and a sweatshirt to deliver an impressive casual look. If you are dressing up for a party, then you can opt for these trousers with a nice roll neck and mont strap shoes.
Twill Chinos:
If you want to give an old school masculine statement, then these twill chinos will undoubtedly help you. The outstanding craftsmanship in this fabric makes it reliable and durable. They are cut from heavyweight cotton and are woven to build a diagonal parallel ridges surface.
Twill is that classic material that will give outstanding durability as it is very sturdy. If you buy twill trousers, you will certainly not regret your decision to provide you great value for your money.
They give a really lovely casual look, so you may provide a look by pairing them up with some nice easy-going shoes, a piece of knitwear or a casual T-shirt with a denim jacket or even an overshirt will do the job. Do this dressing to give an off-duty look without trying too hard.
Linen Trousers:
A few years back, linen trousers were not given a place anywhere in a men's wardrobe as they were considered to be sweaty and a fashion disaster. However, different designers have worked hard to revive them recently. They have replaced the ugly shapeless cuts with modern tapered leg-lines that compliment any body size and shape.
Not only that, but the blending of linen makes them suitable for practical use. You may wear them with a linen top for an old school look, but if you are going for a modern look, then wear them with a T-shirt and sneakers.
Cropped Trousers:
Also known as ankle swingers, these are timeless pieces that allow your ankles to breathe and are perfect for summers. If you are wearing formal wear and want to spice up things a little, then you can use these trousers to add up to your look.
They are worn to give stardust to your footwear, so while selecting the appropriate length, make sure that they are above your ankles; you may wear anything that is two to four inches above the ankle.
They can be worn for both formal and off-duty environments, although they are mostly worn as formal wear. If you are wearing a plain white shirt, then the best way to compliment them is to wear sand-colored cropped chinos. If you are in a more formal environment, then you can pull them off in black color with grey blazers and oxford dress shoes.
Final Words:
Always choose the right pair of trousers according to your environment, i.e., if you are wearing them in a formal setting or in an off-duty environment. You may opt for any style from the above-mentioned style that goes with your clothing. Choose your trousers according to your body size, style, and the colors that compliment you.
Collection 2019
Sale 70% Off
Third slide